ONE PHOTO - ONE STORY
Sri Lanka is full of venomous snakes: they lurk under bushes, stray into residential areas. Jan Michalko photographed this cobra and the man who caught it, for his series on the island in the Indian Ocean.
"I met Dilan Max in a bar. He's a snake catcher. He captures the reptiles in people's gardens and then sets them free again out in the wild. Even so, he keeps a couple of them at home. He lives in the outskirts of Kandy, one of the larger inland cities on Sri Lanka.
I drove there with him one night, to the small room that he shares with other young men. It was there that he showed me his snakes: a cobra and a python. A couple of days later I came across him again, just when he was putting on a street performance with his two snakes and a little monkey. Dilan Max also works as a snake charmer and likes to transport his animals in a sports bag. On that day we exchanged telephone numbers and arranged to meet a week later. More snake friends came to that meeting, bringing along a total of seven cobras and three pythons!
There I was, stuck in a room with ten snakes — it was certainly an unusual feeling. His friends were all very proud of their reptiles and presented them with a lot of reverence. This picture, which is part of the series Life Flashes, was taken on that day. "
LFI blog 02/2020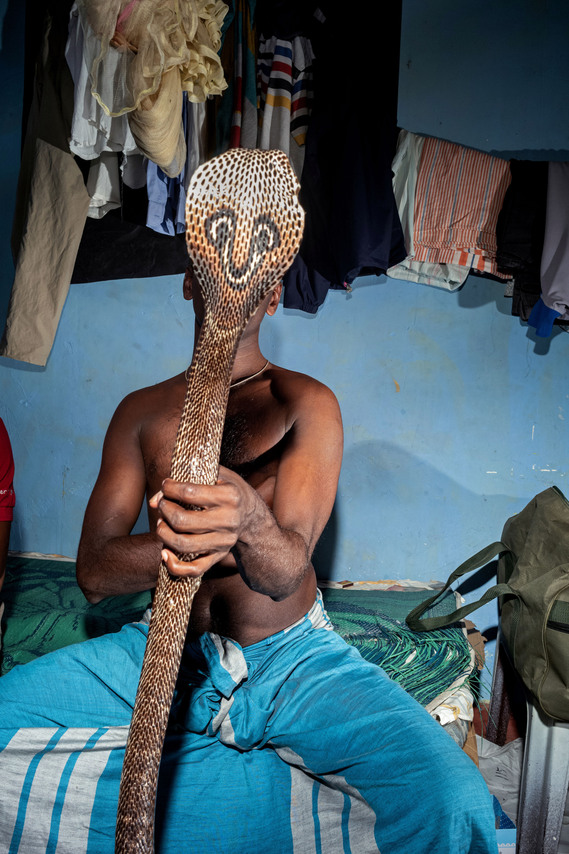 L I F E F LA S H E S
By KATJA HÜBNER - published in LFI - Leica Fotografie Magazine. 03/2020

Heat, noise, and a myriad of colours: for six months, Michalko lived and worked on the island of Sri Lanka. His images capture the vibrancy of everyday life in an extraordinary country.
Winter in Berlin can be a bleak prospect. Grey skies. wrapped-up figures and listless faces all meld into a homogenous impression of lacklustre hues. For some, this is reason enough to pack their bags and seek out gentler climes: Berlin-based photographer Jan Michalko has made three trips to Sri Lanka to date, exploring the island for two months each time. What Michalko found was a paradise in the middle of the Indian Ocean where time seems to have stood still - an enchanted land of palm trees, luscious vegetation and colonial architecture. Most of all, the island is like a vibrant explosion of colours. "To be here is to be transported into a different world," he says. "Colours are both life-affirming and emotive, and have become the core theme of my current work."
On the streets of Sri Lanka, Michalko photographed day labourers and shop owners, porters and snake catchers, as well as the objects that make up people's everyday lives - from ordinary household items to buses and trains. lt was the combination of shapes, colours and lines that particularly fascinated the photographer. "I didn't want to just take travel pictures that show what Sri Lanka looks like," he explains. "For me, it was less about content and more about an artistic evolution." To describe his visual approach, he used the example of observing somebody make a cup of Chai tea: for the artist, it is not the act of tea-making that draws his attention, but the metallic sheen of the kettle, the rising steam, or the torn, pink plastic tarpaulin in the background.
The inspiration for this series partly stems from the photographer's sister, the painter Monika Michalko, whose expansive paintings are composed of intensely colour-saturated objects and forms. When the siblings decided to create an exhibition that would echo the realities and mysteries of Sri Lankan life, they joined forces to explore the island. Despite their different choice of media, their results share a common trait: every image is a sea of opulent colours that seem entirely unbound by traditional configurations of surfaces and space. "My primary focus was on the graphic elements and forms within the images," the photographer explains. "When choosing my subjects, I usually noticed the background before anything else: a billboard with a colourful pattern, paint peeling off a surface, an interesting space. I then simply captured people going about their business against this backdrop."
The scenes in Michalko's photographs are entirely unstaged. He carefully approached his subjects, biding his time until they were so used to this presence that they forgot he was there. The people featured in his images are almost like extras on a stage, rushing past the photographer, rarely turning their face to the camera. They are integral elements of what Michalko considers to be a successful composition: every pose, every gesture, has to be in a harmonious relationship to its environment. If a scene fulfils these criteria, Michalko goes into what he calls 'tunnel vision' mode, and acts incredibly fast.
The images in this series were taken with the Leica M240 as well as the Leica M10, combined with 28 and 50mm fixed focal length lenses. An especially striking aspect of his photographs is their luminance — even with an overcast sky, the bodies, garments, faces, plastic bags and buckets seem to radiate off the page. He achieved this effect by using a powerful flash set-up - an approach he first adopted some twenty years ago. He even created a custom-made solution to combine his flash guns with the Leica. "I built a flash cable and connected it to the transmitter. Instead of attaching the transmitter to the top of the camera, as is customary, I hung it on my belt, which made the camera easier to handle." He then mounted the flash guns on tripods of varying sizes, placed them on top of boxes, hung them from trees or attached them to tuk-tuks.
Other times, he handed them to local onlookers, spontaneously turning them into his assistants.
There is a snapshot character to Michalko's images, as though he had managed — almost in passing — to capture the dynamic essence of everyday life in Sri Lanka. Buzzing with energy and bursting with colour, his pictures are like a medley of exotic sweets that last forever. Many of the images were taken in the capital, Colombo, others are the result of numerous trips across the island. The post-processing was limited to colour and contrast correction — the images were neither cropped nor manipulated.
There is a recurring theme in this series that seems both alien and dangerous to most European viewers: the apparent omnipresence of snakes. In Sri Lanka, cobras and vipers can be found curled up in bushes or loitering in residential areas. The snake catcher Michalko photographed against the backdrop of a blue wall, half-concealed behind a cobra and illuminated by a bright flash, was someone he had simply met in a bar. His job consists of catching stray snakes in people's gardens, and releasing them back into the wild. Occasionally, however, he will take a shine to one of them and keep it at his home. And so, when Michalko visited the house of his new acquaintance, he found himself in a room with seven cobras and three pythons. "That was definitely a unique experience," he remembers. "This guy also works as a snake charmer, he takes the animals with him on the bus, stowed away in a gym bag." In Asia, snakes symbolise a strong life force — rather like dynamic colours.
KATJA HÜBNER
JAN MICHALKO, IN ROMANIA

In Dialogue with MICHAEL NARDONE - Published in BlackFlash Magazine 09/2014

Since the mid-1990s, Jan Michalko has been documenting Eastern Europe, tracking its transition from the disintegration of the Eastern Bloc to its complicated and uneasy absorption into the European Union. With a street style reminiscent of Gary Winogrand, Lee Friedlander, and Tod Papageorge, and a documentary approach in dialogue with the French collective Tendance Floue, Michalko situates his photographic practice at the interface of the quotidian and the spectacular. Daily life and the transformation of its surfaces are central to the conceptualization of the images. Urban spaces appear often in processes of construction: upon the palimpsest of the former political orders, a veneer of neoliberal capital is steadily being spread. Here and there, magnificent façades have been erected, their scaffolding stands half-dismantled. Billboards get thrown up, pedestrian paths rerouted, fluorescent lights cast new shadows. Unrenovated islands appear, as sites where bodies gather in familiarity, or they are seemingly abandoned, left to be scavenged until their eventual upgrade. How the transformations effect the inhabitants of these spaces, how they alter the dynamics of their bodies, is implicit in Michalko's images. Each image locates a certain unrehearsed Brechtian Gestus - the embodiment of an attitude, gestures that make visible aspects of one's social relations - in the little theatres of the public.
I initially encountered Michalko's work at his Berlin studio in 2004, not long after his initial trip to Romania. I did not know it then but the moment marks a significant shift in his geographical attention. Having spent the previous eight years documenting the Eastern European nations that had recently been incorporated in the European Union, Michalko's interests then shifted to Romania and its contested assimilation within the confines of the Union. The first element of the photos from Romania that took hold of my attention was Michalko's ability to slip within particular spaces and configurations of bodies and capture amid them some stunning symmetry. His compositions - their improvisational framing, the proximity to his subjects, the impression of immediacy, the peculiar perspectives, angles, the partially obscured bodies, his sense of light - intrigued me. I was curious to learn about his practice, how he used his camera, his way of being in the field.
The second element of the images that took hold of my attention was how it was possible to discern the intense activity - the constant movement, the barrage of encounters, the up-for-days sensation - that underlies the production of the images. At first, I wanted to refer to this activity as flânerie, but that is not quite the right word: flânerie is too passive in its action, too leisurely, too confined to a specific locale even if a sprawling one. (Though Charles Baudelaire's description of the flâneur in "The Painter of Modern Life" approaches an element of Michalko's photographertos when he locates the perceiver "in the heart of the multitude, amid the ebb and flow of movement, in the midst of the fugitive and the infinite.") And I want to be careful, too, to not define Michalko's activities simply by their topographies and trajectories amid and through them. Michalko enacts a spatial practice directed toward developing ways of being and relating to his subject and their shared ambiances. In this, he comes closest to the Situationist dérive, which Guy Debord describes in his "Theory of the Dérive" as "a technique of swift passage through varied environments." Central to this form of drifting is that perceivers enter into relations with and in the midst of a terrain and its inhabitants, human and nonhuman. They allow these spaces to effect their comportment, their sense of time, their approach. Michalko makes palpable that perceptive atunement that takes place in each encounter, the momentary negotiation between photographer, subject and space from which his images emerge.
In February, I returned to Michalko's studio in Berlin's Soldiner Kiez to discuss his photographic practice, recent images and travels, and the trajectory of his work in Romania and the surrounding regions.
Michael Nardone: Jan, first off, can you tell me what camera you are using in your photos from Romania? Looking through your images from before this time, I can see you always had a flash in hand. Your use of it is a kind of signature in the earlier pictures. In the photos from Romania, this is not the case. You use in some way the lighting from the situation you are in. Are you working with the same kind of camera?
Jan Michalko: I shot all the photos from Romania with a Leica M7. Before that, I had all kinds of cameras: Nikons, Minoltas, Canons. I was given the M7 by Leica to test out just before I went to Romania. It's a small camera with small lenses and is very basic to shoot with: you can feel the way it operates, you know its timing, you can hear its shutter exactly. With other cameras I shoot in a more technical way and, yes, use all kinds of flashes. With the Leica I shoot more closely with my body and with a fixed wideangle 28mm lens.
MN: You're shooting film?
JM: Yes. I prefer film for the way I'm taking pictures there. If you photograph with film you don't know what you have in the way that you do with digital. I don't review the pictures while I'm there. I think, well, I've got some pictures and leave it at that.
MN: When we first met in 2004 you had just returned from your first project in Romania. Since then, I believe you've returned several times. Can you say something about your relationship to Romania and why you've kept returning?
JM: When the Eastern European countries I had been documenting the previous ten years - Hungary, Czech Republic, Slovak Republic, Poland, Estonia, Latvia, Lithuania, Slovenia - became members of the European Union, Romania became an "acceding" nation, meaning it was being considered as a candidate for inclusion within the Union. It sparked an economic boom. It was short-lived. The boom lasted about as long as it took to make the nation an official member of the EU in 2007. It seems as though the money to fund the boom was borrowed and the recession that hit many places a year or two later stopped the construction that was going on everywhere. Much of the development was bought up by the wealthiest within Romania or from the rest of Europe, and the nation itself went into great debt. During these years, you could see and feel what was happening. It was uncertain, unsettling. Swathes of the country's landscape were undergoing fast changes.
MN: Will you tell me something about your own movement across Romania? Again, looking through your photos from before these times, they're not entirely set within urban spaces, but nearly so. There's a different range of locations in the images from Romania, and the images of rural spaces are often a stark contrast to the urban ones.
JM: I've been to Romania three times since the 2004 trip. And I'll go again very soon. Each time I go, I go for five or more weeks, with very few things and travel in a basic way. I make no particular plans. I take my camera, loads of film and take off without thinking much about comfortable lodgings or conveniences. I walk around all of the day and make pictures and take the trains at night. This is something special about Romania, how extensive and inexpensive traveling by train is there. Nicolae Ceausescu, Romania's leader from the mid-60s to 1989, was obsessed with building the country's rail system. So, now it's possible to jump on a train in the evening and it will go very slow all night. People come into your compartment with animals while you try to sleep a little and other people come right up and begin to talk to you and it could go on all night. Anything can happen. One thing about Romania, which feels different than, say, Albania, is that the people have a great temper, a great energy and they will confront you, come right up to you wherever you are and begin a conversation with you. Then, a few hours later, you might arrive at some place, at five in the morning when it's still dark and, if it feels right, jump out and begin a day of making pictures.
MN: How long will you stay in that place?
JM: I might decide to stay there for the day or maybe two days or maybe two weeks.
MN: Can you say something about the way you make pictures, in regard to what you look for and your approach? I understand that the projects you undertake or are commissioned to do are often based on documenting particular regions, from the French Caribbean to your work in China, as well as your recent images from Albania. But your work veers away from more traditional photojournalism. There's a kind of speed and immediacy you can sense in the images, a casual precision.
JM: In the end, it's a traditional way of framing. I feel close to what Gary Winogrand says in a number of interviews. I think it's not about going to some place and making a picture to show I've been here or there. Nobody needs that picture. It's about how you move and play with lines, how you compose things in a frame. When you travel all night and get off the train at five in the morning and you try and get a coffee and something occurs - like this one in Oradea with the man and the soldier - you photograph it and then you keep moving. If you go and say, well, that's an interesting picture, what technically should I include in it, then you've lost it. It's more about waiting for moments to occur. Then you say: This is a nice situation, I will press the button. You don't have to worry about being technical, but you do have to find a way in that moment to be precise. Then you move on.
MN: But what does Winogrand say in his interviews?
JM: He says that there is no narrative picture. He says that you can't tell a story with pictures. You can only show how something looked with a camera.
MN: I've always thought there was a strong affinity between your own work and Winogrand's. What attracts you to his photography?
JM: He's just there. He can be very close. Then he's moving, moving. He's interested in space. He says each time he makes a picture that he's stating problems in photography. He stands in front of figures and presses the button. It's that simple.
MN: Looking through your photos and seeing these rather ordinary gestures that partially obscure the subject or make strange some quotidian moment, there's another Winogrand quote that comes to mind. In an interview, he says: "If I saw something in my viewfinder that looked familiar to me, I would do something to shake it up."
JM: Yes, I feel some closeness to this statement, but I veer a bit away from it or activate it in a particular way. With pictures, often at first I see a background, an atmosphere. I move into a space and feel as though something could occur there. I have in mind some thing but it is not clear, so I circle around in that space and attend to whatever it is that I feel could potentially take place. Then it happens: an entering, a turning to or a turning away, an alignment, a certain regard. There are photographers who go and shoot so much. They take ten or more pictures of the same frame. Look at my negatives and you will see that for each picture I take only one frame. I do not overshoot. A situation occurs and I make one picture.
MICHAEL NARDONE






ROMANIA - WHERE YESTERDAY IS TODAY
By CARLA SUSANNE ERDMANN - published in LFI - Leica Fotografie Magazine. 05/2005

It was inevitable that Jan Michalko would develop a liking for Europe's eastern frontier. His father is Slovakian; Michalko was born near Carlsbad in Bohemia, in 1975. After extensive travels through the former eastern bloc, Michalko and his Leica M7 finally made it to Romania. His inquisitive eye conveys unusual impressions of a wilderness in the outskirts of Europe.
In Eastern Europe, clocks tick at a different pace. If at all. German newcomer photographer Jan Michalko likes to present distinctive images of a given country. Not the postcard ideal but rather moments extracted from everyday life. In September 2004, he travelled through Romania - from bottom to top and counter-clockwise. Michalko, a self-taught photographer, would stay in private pensions or share a 6-bed room in an Ubydovna; this is what Romanians call accommodation for worker nomads who have very little money. He experienced the country as a hitchhiker and on public transport.
The original Romania - he now knows - cannot be found in the cities. There, life is already tainted by western influences; the perception of that which has nothing in common with pretence is already blurred. In Bucharest, he was immediately asked how much an Opel Astra sells for in Germany. But Michalko is bored with this world. "I want to pursue traces of a country where other things are more important, such as tradition, brotherhood, integrity... where there is still communism," says Michalko. Out in the wilderness, however, he discovered other things as well: apathy and anarchy, manifested in wild growth and litter everywhere, and in the way people dealt with authority: corruption and ignorance as a common aspect of everyday life.
Jan Michalko has the knack of capturing situations others fail to grasp. The photographer blends in, participates and waits. Consequently, he is often at the right place at the right time. Many of his pictures would not have worked a second sooner or later. He relies strongly on his intuition.
Shortly after his arrival in Romania Michalko bought a felt hat in a local corner shop, the type the elders like to wear. The old Romanians laughed with him, the younger ones at him. Yet it was an unfailing sign that he was like one of them, a homing device that guided him to their humble dwellings. On numerous occasions Michalko was invited to come inside - by people who were less concerned with the whats and whys of his picture taking. They wanted to share their food and drink. Sipping home-distilled Slivovice, they would tell him of past times that have somehow endured to the present day. These folks have time; which is how it has to be. Perhaps because they understand that modernisation evolves at its own tempo. Here, however, things seem to have come to a standstill. In Germany, one would call it lethargy. In Romania, people accept having to wait. It is part of their way of life: waiting for a green traffic light, or a bus, which may only depart in several hours; waiting for the breakdown service or for better times. Though they often appear to be looking inward, one would imagine sometimes that they are on the lookout. Perhaps for a train - a train heading west?
CARLA SUSANNE ERDMANN